A mind-body approach to staying well
Caramie Petrowsky
November 04, 2020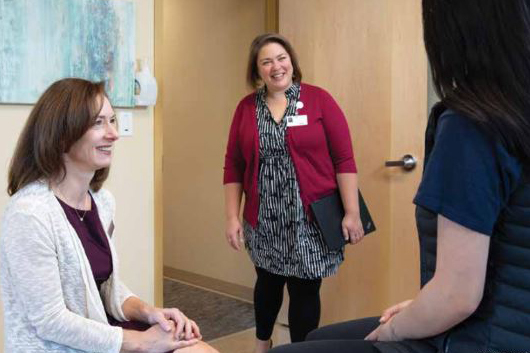 This article was written by Caramie Petrowsky and was first published in Vail Health Magazine, 2020.

People who trust their doctors often find themselves sharing more than the details of their physical health. Obstetrician/gynecologists, for instance, are frequently consulted regarding the emotions women experience in life. Primary care providers are also confided in, and recently, all Colorado Mountain Medical providers began screening patients for signs of behavioral health concerns. CMM's goal is to treat each patient's body, mind and spirit. When an issue arises, help is around the corner — literally.

Colorado Mountain Medical's clinics are intimate and integrated. That means, if a provider determines a patient requires specialty care like endocrinology, for instance, he can call or, in most cases, walk down the hall and make an introduction to one of the endocrinologists.

Likewise, if a patient with diabetes admits he's having a hard time managing his blood sugar because he's suffering from depression, his doctor can refer him directly and seamlessly to someone on the behavioral health team. The team likes to refer to this as "the warm handoff."

The overarching goal of this integrated health model is simple: "To meet people where they are and get them timely, accurate care," says Cathy Schneider, LCSW, a member of CMM's behavioral health team.

TIMING IS EVERYTHING
Timing is especially crucial when it comes to providing behavioral health resources. Whereas in some larger healthcare systems, it can take upwards of three weeks to schedule an initial visit with a mental health provider, someone who is in crisis can access a therapist the same day if needed, either with a CMM provider or someone from the Hope Center.

"If you're in the middle of experiencing the loss of a loved one or having marriage issues, three weeks is a really long time," says Schneider, adding that the top three issues locals face are anxiety, depression and substance abuse.

If a provider is concerned for a patient's mental wellbeing, he or she will recommend therapy on the spot.

"As a company, we're focused significantly on both empowering our medical providers to recognize patients who have behavioral health issues and growing our team of behavioral health specialists to handle the needs of the community," says CMM's CEO Dr. Brooks Bock, who has hired ten behavioral health specialists in less than a year, with additional providers available via telehealth through a partnership with the Johnson Depression Center at the University of Colorado

WHY INTEGRATED HEALTH WORKS
Patients appreciate the seamless transition and convenience of having an integrated healthcare system under one roof.

"The doctor might say, 'I understand you're having a hard time, I want you to touch base with one of our therapists — I think they could help.' And then the therapist can come right into the room and do an intro right then," Schneider says. "It really helps to demystify and cut the stigma out of mental healthcare."

Since all CMM providers are using the same electronic medical record system, there is no need for obtaining permission to transfer records, as can be the case when the care isn't integrated.

"Medical providers connect with us regularly and and we can consult back and forth on cases to ensure the patients' whole-body health," explains Schneider.

In addition, several of Schneider's therapy patients have mentioned feeling more comfortable sitting in the waiting room because no one knows if they are there to see a medical doctor or a therapist.

"It doesn't matter what type of care you're receiving — patients are here to manage their health, and that's a positive step along the journey to wellness," Schneider says. "People should applaud one another for taking care of themselves — whether it's their physical body or their mental health. When our doctors recommend therapy, it normalizes it for people."

Along with experience treating depression and anxiety, CMM's therapists offer a variety of specialty care, including trauma; substance abuse (some of the team members are licensed addiction counselors as well as licensed therapists); chronic long-term health issues like HIV/AIDS, infertility and diabetes; smoking cessation; couples therapy; eating disorders and pain management issues. Two therapists specialize in using eye movement desensitization (EMDR) to treat both adults and teenagers. "We really do focus on different things," Schneider says. "I like to say we are a small team, but we have a deep bench."

WHEN THE COMMUNITY FACES A CRISIS
Colorado Mountain Medical launched the behavioral health program in December 2019. COVID-19 hit Eagle County two months later. When the symptoms of COVID were initially released, they included cough, cold, fever and trouble breathing.

As the world developed a better understanding of the virus, one side effect became a clear and significant concern: behavioral health.

CMM established dedicated respiratory clinics to treat the physical effects of the virus. They also braced their behavioral health team to support Eagle County residents through the emotional effects that would take a toll on a greater number of people than those who actually tested positive for COVID.

When the emotional stability of everyone in the community was at risk as fear, job loss, changes in routine and isolation wreaked havoc on people's behavioral health, CMM increased its in-person and telehealth capabilities.

"The timing couldn't have been more perfect for CMM to begin offering behavioral health. It's been a very important initiative for the county as a whole, and will continue to be as we move into the future," says Dr. Bock.

SOLUTIONS FOR THE COST OF BEHAVIORAL HEALTHCARE
Because the cost of therapy can be prohibitive for some people, Eagle Valley Behavioral Health launched Olivia's Fund, which provides financial assistance to anyone who lives or works in the Eagle River Valley and demonstrates a need. Olivia's Fund offers mental health and/or substance abuse services for up to six free sessions per person, per year. Colorado Mountain Medical has made significant contributions to improving the behavioral health landscape in the Eagle River Valley. By referring patients at risk, growing the behavioral health team and offering solutions for the cost of care, CMM is truly caring for the body, mind and spirit.